Profile

Jeremy Smyth
Never a Warbler
Free Account
Created on 2012-08-01 11:37:29 (#1693786), last updated 2013-02-25 (238 weeks ago)
0 comments received, 241 comments posted
17 Journal Entries, 14 Tags, 0 Memories, 67 Icons

About

Mini Bio
jeremy smyththe undapper one
T H E U N D A P P E R O N E @ L J. C O M


Never a Warbler...

As much as Jeremy hates to admit it, he's a bit of a cliché. Born one half of an identical twin set, Jeremy is the polar opposite to his brother, Sebastian, in everything but looks. Where Sebastian is confident, ambitious, determined, and comes with the ability to be an arrogant douchebag, Jeremy has always sort of lived in his shadow. He was more quiet, willing to sit on the sidelines and watch, and way more friendly and approachable than his other half. He wasn't ever particularly studious but he made good grades, enjoyed school, had loads of friends, and enjoyed sport. About the only thing he shared with Sebastian was musical talent, with both boys being able to sing and dance, but that, unfortunately, often found them competing against each other on opposing glee clubs, and Sebastian was relentless when it came to beating his brother.

However, whilst the family was well-off with the twins' father a States Attorney and their mother a cutthroat journalist, Sebastian never cared for the finer things in life much, and never yearned to go to private school like Sebastian was gagging to. They were given the choice, and although Sebastian would have preferred his brother to go to Dalton with him just to keep up appearances, Jeremy knew Sebastian was somewhat relieved when he chose the local public school so he wouldn't have to deal with his dorky twin cramping his style. And to be honest, the amount they got mistaken for each other in life, Jeremy was glad Sebastian and his butt pain ways weren't going to be around to cramp his and maybe lessen the load of how much he got blamed for things Sebastian did or said. When you were a twin, it was easy to get treated as the one person sometimes.

Now Jeremy just does his own thing. He adores having fun, getting dirty, playing games, practical jokes and being an all-round goofball. He has his geeky moments with a love for Star Wars, comics and video games, and when he finishes high school, he hopes to get into something working with kids, and is contemplating becoming a nurse or a teacher. He and Sebastian are completely different, but they love each other all the same... as well as manage to frequently exasperate each other. They work if they're not constantly in each other's presence, which is okay now that Sebastian is at boarding school and Jeremy is still at home.

IN LOVE IN LONDON VERSE
After graduating high school, rather than sticking in the USA, Jeremy decided that he might finally get in on the family's like for travel. Instead of applying for colleges in the US, he applied overseas, and was surprised to get a few offers from schools throughout Europe. After listening to Sebastian rave monotonously about Paris, he accepted an offer from a college in France and went on to study a double degree in Early Childhood Education and Nursing. He never minded studying, and subjects interested him, so without really have decided a specific career path at that point, he figure what the hell.

He graduated at 23 with two degrees and it was some random trawling of the internet one day that had him applying for a position as a nanny to a super rich and old money family in London. They didn't want a live-in nanny, just someone to take care of their young children aged one and three whilst the parents worked. He got the job, and the family were over the moon with him. Two years later he is still there, working from five am to six pm weekdays, for children now three (Natasha), five (Paul) and a new little one of four months old (Daniel). He loves his job, and he hasn't had the heart to move on from it yet, especially considering how much he loves London. Occasionally he will toy with the idea to move on to teaching or nursing, but there is just something about being Mr Mary Poppins that he adores and can't shake for the live of him.

SLIDING MOMENTS VERSE
Coming soon...

BACK WITH BAGGAGE VERSE
It was the night
Sebastian got down and dirty with
Kurt Hummel in the bathroom of Scandals that Sebastian left the nightclub high and determined not to let the way the ex-New Direction gay bitch toss him aside like a toy get to him. He hitch-hiked to a home and to get his brother, Jeremy, and demanded he come to a rave party in Lima Heights with him. Jeremy was more than reluctant, mostly wanting to just hang out with friends and enjoy his summer. Raves, and certainly not drugs, really weren't his thing.

It was never going to end well. Sebastian only got more high and on more shit, and some how decided that drag racing out in the streets high was a good idea. Jeremy tried to stop him, desperately not wanting his twin to get hurt, but in a horrible twist of fate, it was Jeremy who ended up hurt. Right in the midst of a screaming argument with Sebastian trying to stop him getting into the car, Sebastian, with his increased strength from the drugs, shoved Jeremy out of his face and pushed him onto the right... right into the path of an incoming car. Jeremy got hit and was nearly killed on impact, but it was the fast thinking of witnesses and paramedics that kept to get him to hospital. He spent four weeks in a coma with massive internal injuries and was subjected to three major surgeries to heal the damage. He eventually recovered, but was left with extensive scarring on his torso from the injuries and surgeries. Sebastian, wracked with a guilt he could fight, ran to France with the help of his parents, but the twins' relationship was ruined.

Jeremy is now based in New York City, graduated with a Bachelor in Education, and works as a tutor for child actors staring in film and TV shows in New York. He loves his job, but there has always been a hole where his twin was missing that ached like hell sometimes. And now, out of the blue, he has reunited with his brother when Sebastian showed up on his doorstep one night in tears begging for forgiveness. Little did Jeremy know that it was in the wake of a sordid encounter with Kurt all over again, but the tears said it all and there was no way Jeremy could turn his brother away... even if things have been awkward with them, and a struggle to repair the tattered relationship.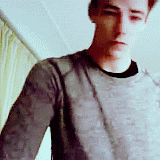 CHARACTER NOTES
Jeremy was born of a random comment from an RP pal in the wake of GLEE episode 3x11 that Sebastian must be the "evil twin". It grew into a monster idea, and Jeremy here, Sebastian's twin brother, was born. He is the much more unassuming twin, friendly and a goofball. He never wanted to go to a private school, preferring the local public school instead, and is affectionately (or not?) nicknamed Germ by his twin. He knows Sebastian is a douchebag, but still loves him, as Sebastian does him. They just don't always get along for the sheer fact they're so different and clash. Jeremy's general Sebastian in most verses is
dapperdevious.

For open/misc comms like SWS or memebells, he's used to being mistaken for his twin so no big deal there!

DISCLAIMER
MUSE AND MUN BOTH CONSENTING ADULTS. Jeremy is an Original Character played within the Glee fandom, as an identical twin to Sebastian Smyth. Not Sebastian Smyth. Not Grant Gustin. Not affiliated with Glee in any way. For RP and fanfiction purposes only.

People
[View Entries]

Communities
[View entries]

Member Of (20):
backwithbaggage
,
bakerstreet
,
beyondmckinley
,
etrelibre
,
evilenablersanonymous
,
fromlimatola
,
inloveinlondon
,
leavinglima
,
memebells
,
musebysentence
,
muserevival
,
newyorknoire
,
queerasglee
,
raisingglee
,
sixwordstories
,
slidingmoments
,
thelucky13
,
thenewdirection
,
wayswithwords
,
weregleefamily

Subscriptions (20):
backwithbaggage
,
bakerstreet
,
beyondmckinley
,
etrelibre
,
evilenablersanonymous
,
fromlimatola
,
inloveinlondon
,
leavinglima
,
memebells
,
musebysentence
,
muserevival
,
newyorknoire
,
queerasglee
,
raisingglee
,
sixwordstories
,
slidingmoments
,
thelucky13
,
thenewdirection
,
wayswithwords
,
weregleefamily

Administrator Of (0)

Feeds
[View Entries]

Subscriptions (0)

Linking
To link to this user, copy this code:
On Dreamwidth:
Elsewhere: